AGC System Scaffolding Ltd - Commercial Scaffolding near Milton Keynes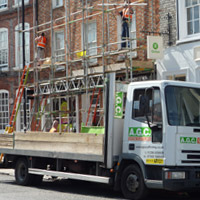 Over the 20 years that we have been providing scaffolding erections to our commercial, domestic and industrial customers in the Milton Keynes area, we have maintained a professional, safe and reliable service.
Our aim has always been to offer scaffolding work of utmost quality that adheres to strict health & safety protocols and standard practices. To this end, our scaffolding erectors are trained and experienced in carrying-out both large and small commercial scaffolding jobs to the highest standard.
As well as this, we also have the resources to handle jobs ranging from the simple to the complex, whilst making allowances for access when required. The result of all this is a service that rivals any scaffolding companies.
Scaffolding Companies
There is a range of scaffolding companies out there, which is why we strive to provide quality commercial scaffolding that leads the way in affordability and selection of services. Take a look at what we can provide for you if you call us: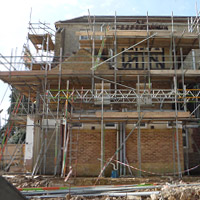 We provide installations and erections of scaffolding that can be as simple as a small-scale domestic job, or as complex as a large-scale commercial project. To carry out the services we offer, we have our own fleet of equipment and vehicles that enable us to erect even the most ambitious of jobs. Also you can purchase or hire equipment from us, and we will deliver as quickly as possible.
For a rough quotation on any of the services mentioned here and more, give us a call today.
Scaffolding Services
Scaffolding installation

Any size job

In-house fleet

Deliveries & transportation

Professional scaffolders
Commercial scaffolding

Hire & sale of equipment

Buy new & used equipment

Scaffolding erectors

Fully qualified team