AGC System Scaffolding Ltd - Scaffolders near Northampton
Congratulations on the purchase of your new 4-story building! Business owners like you are what make Northampton great! Ah yes, I agree, that front-facing facade is going to need some work. It looks like you'll be looking at what's out there for scaffolding so workers can fix up the place for you. When you're out there knocking on doors, be sure to ask the following questions: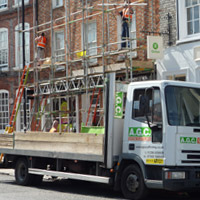 How much experience does the company have? What is their safety record? Do they sell equipment or do they rent as well? How often is their equipment inspected? Do they deliver or do you need to pick up and return?
What aspect of the building industry do they focus on? Some companies specialize in residential while others specialize in commercial or industrial. If they rent their equipment, what are the rates and do you need your own insurance policy to use their equipment?
Professional Scaffolding Services
One company serving the Northampton area, is AGC Systems Scaffolding Ltd. Their scaffolders have over 20 years of experience in the industry. Established over in Aylesbury, they handle just about every type of scaffold-related task you can think of, including small D.I.Y projects. Gaining a reputation for quality and friendly, professional service provided by qualified staff. Their own highly trained erectors will come on site and assemble the scaffolding for you.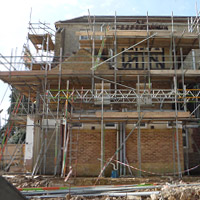 You may want to look them up and see how they can help you with this restoration project. Welcome to the area. Your scaffolders will be safe using AGC's equipment.
If you would like help and advice from one of our professional scaffolders, or would simply like a free, no-obligation quotation, please contact us today by filling in our online enquiry form or call 01908 969 194 for more information.
Scaffolding Services
Scaffolding installation

Any size job

In-house fleet

Deliveries & transportation

Professional scaffolders
Commercial scaffolding

Hire & sale of equipment

Buy new & used equipment

Scaffolding erectors

Fully qualified team