AGC System Scaffolding Ltd - Scaffolders near Oxford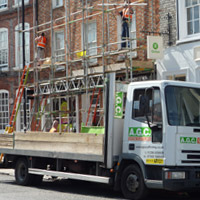 At AGC Systems, we provide a safe and reliable scaffolding service and have been doing so for 20 years. During that time, we have developed a diverse portfolio from completing jobs for a range of customers throughout Oxford.
If you're looking for a company to scaffold your construction, you need look no further than AGC Systems. We can provide for domestic customers that may require scaffolding for a small DIY job; commercial customers that are looking for a safe, dependable service during any size construction; and industrial customers looking for scaffold assistance that is fit to their needs.
Professional Scaffolding Services
The main aim of any scaffolding job is to maintain safety whilst construction is ongoing. Therefore, our workers adhere to stringent health & safety practices and have undertaken extensive training for the job of safe scaffold erecting. Also, the experience gained by our scaffolders ensures they can tackle the most complex and unusual of jobs presented to them, whilst still maintaining a high standard of safety.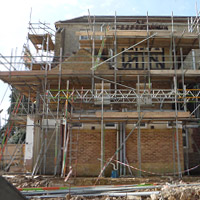 For an idea of what we can do for you, here is a short summary of the services we provide:
Installations for small to large jobs (domestic, commercial and industrial).
Trained and experienced scaffolders.
Our own fleet of vehicles for transporting and putting up scaffold.
Equipment that you can hire or purchase (new and used).
A team of fully-qualified scaffolders.
Contact us for an estimate or quotation concerning any of the services listed above.
Scaffolding Services
Scaffolding installation

Any size job

In-house fleet

Deliveries & transportation

Professional scaffolders
Commercial scaffolding

Hire & sale of equipment

Buy new & used equipment

Scaffolding erectors

Fully qualified team